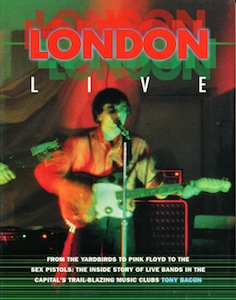 London Live
Here was a subject that for a long time I'd been itching to get deeper into. I grew up in London and spent a lot of time there as a young man going to gigs, everywhere from the Marquee to the Albert Hall. I figured there was a story. Very often, music is portrayed as a series of record releases: this band made this single, then this album, then this mega-selling record … and so on. The story of live music is less often considered. I thought it would be an interesting idea not only to put live music at the heart of the story, but to centre on the venues where that music was made. And not any old venues, but those of my home town, London. I know many of you will argue for other cities, but London's place in the story of music is unquestionably an important one.
I decided to concentrate the story on the 50s, 60s, and 70s, and I broke it up into styles, from skiffle, rock'n'roll, and trad in the 50s, through R&B, folk, and psychedelia in the 60s, to prog, pub-rock, and punk in the 70s. I got to recall classic gigs with The Who at the Marquee, the Stones at the Crawdaddy, and Hendrix at Blaises. I relived the sound of Paul Simon at Bunjies, Cream at Klooks Kleek, and Tommy Steele at the 2-Is. I rediscovered Pink Floyd at UFO, Sex Pistols at the 100 Club, and Georgie Fame at the Flamingo.
I did a lot of picture research, and I turned up photos and rare memorabilia. The result was a book that profiled the finest musicians, the hippest clubs, and the greatest events that revitalised pop music in London through those three decades. I also went cross-eyed compiling a unique database for the back of the book that detailed every pop act that played at London's Marquee club from April 1962 to December 1979.
It's one of my favourites of all the books I've written. Which might explain why it sold so poorly. It was that old story of great reviews and lots of rave comments … but a baffled silence from the sales outlets. The book is out of print now.
And with that rarity in mind, you can read an entire chapter of London Live if you click here. 
I do plan one day to make a revised edition of the book. Honestly.