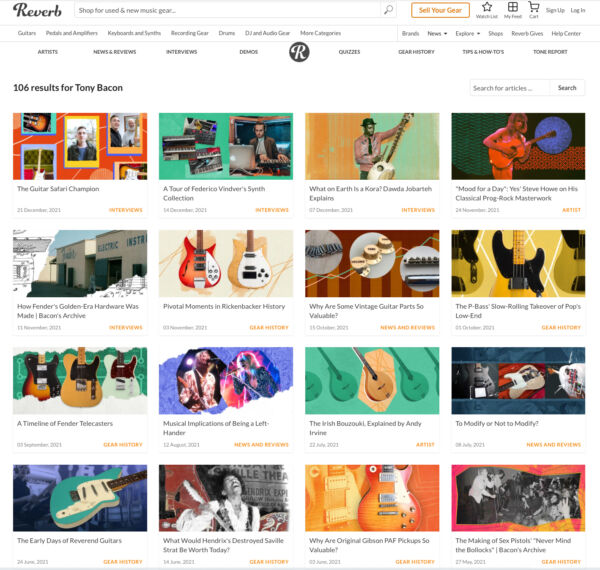 I write regularly for Reverb.com, Guitarist, Sound On Sound, and TNAG Connoisseur, among others.
Sometimes it's a column, where I can have fun covering all kinds of subjects that whirl in and around vintage and modern guitars. Other times it might be an archive interview or a new interview, or a longer piece that gets to grips with the deeper details of a subject.


YOU CAN FIND some of my recent stuff here …
What on Earth Is a Kora? Dawda Jobarteh Explains Getting to grips with the kora, a fabulous West African stringed instrument. Reverb
The History of Single-Pickup Guitars Exploring the world of electric guitars with only one pickup—limiting or liberating? Guitar.com
Henry Diltz: Life Through A Lens The legendary rock photographer explains how he uses god's light. Written for TNAG Connoisseur—see details of their app here.
What became of Jimi Hendrix's Stratocasters? Sold on to collectors or lovingly sacrificed to the music gods, Hendrix's Strats are the stuff of Arthurian legend. Guitarist / Guitar World
A Timeline of Fender Telecasters Fender has built over 200 kinds of Teles since 1951, and here are some of the most important ones. Reverb
Patrick Gleeson: Synth Pioneer Alongside those who make them, Patrick has probably done more than anyone to introduce synthesizers to popular music. Sound On Sound


YOU CAN FIND more links to my work at these helpful indexes of stuff I've written …
• Reverb's index of all my writing they've published.
• Reverb's index of all my archive interviews they've published.
• Guitar.com's index of my writing for them and the now defunct Guitar Magazine since 2019.
• Guitarist's index of my writing for them (sometimes at Guitar World's website) since 2020.
• Sound On Sound's index of all my writing they've published.